You may remember that about a year ago I published a video of a dorky bloke getting all over-excited by his new car while sitting in a Northamptonshire lay-by. Well, 14 months and almost 17,000 miles later, am I still as excited by that car as I was and the end of September last year?
This article accompanies a news Show Special Edition which can be heard here or via any of the normal podcast players.
The Car
The Mk4, or "ND", MX-5 has been well documented. Everyone knows how it's as much as 150kg lighter than the Mk 3, how it's been designed and built using "gramme strategy" to make it as light as possible and how it's even shorter than the Mk1 - itself a diminutive vehicle.
My car is the 2.0 Sport Nav model, with the larger, 2.0-litre engine, leather, climate control, navigation, cruise control, a mechanical limited-slip diff' and Bilstein shock absorbers. To this, I added the Safety Pack, but I'll go into detail about that later. Some have commented that this sort of lavish specification "isn't what the MX-5 is all about" and I understand that perspective, but for the motorway and continental miles that make up the dull bulk of my annual mileage it made sense to me.
As one for the first customer cars ordered in the UK this was the highest specification model at the time - Mazda announced the Recaro Edition just as my car went to build and it was too late to change my order. While the body kit, Alcantara seats and dashboard of the Recaro Edition are pleasant, I'm not so sure about the available colours and wheels of this special edition. After all, I can always add the gloss black spoiler and skirts if I decide mine needs a visual tweak.
The Looks
It will come as no surprise to find that I'm something of a fan of the looks. Its grille and headlamps have a slightly angry vibe; the side profile is taut, and the rear is minimal, with more than one person comparing it to a Jaguar F-Type - hardly an insult! I do find that it sits slightly high on its 17-inch wheels, and profile shots show arch gaps through which Bambi could frolic, and the standard wheels are somewhat inset from the edges of the bodywork. The temptation to lower the car and widen the track is high, but for reasons to follow I find myself reluctant to commit to that sort of modification, which is surprising for me.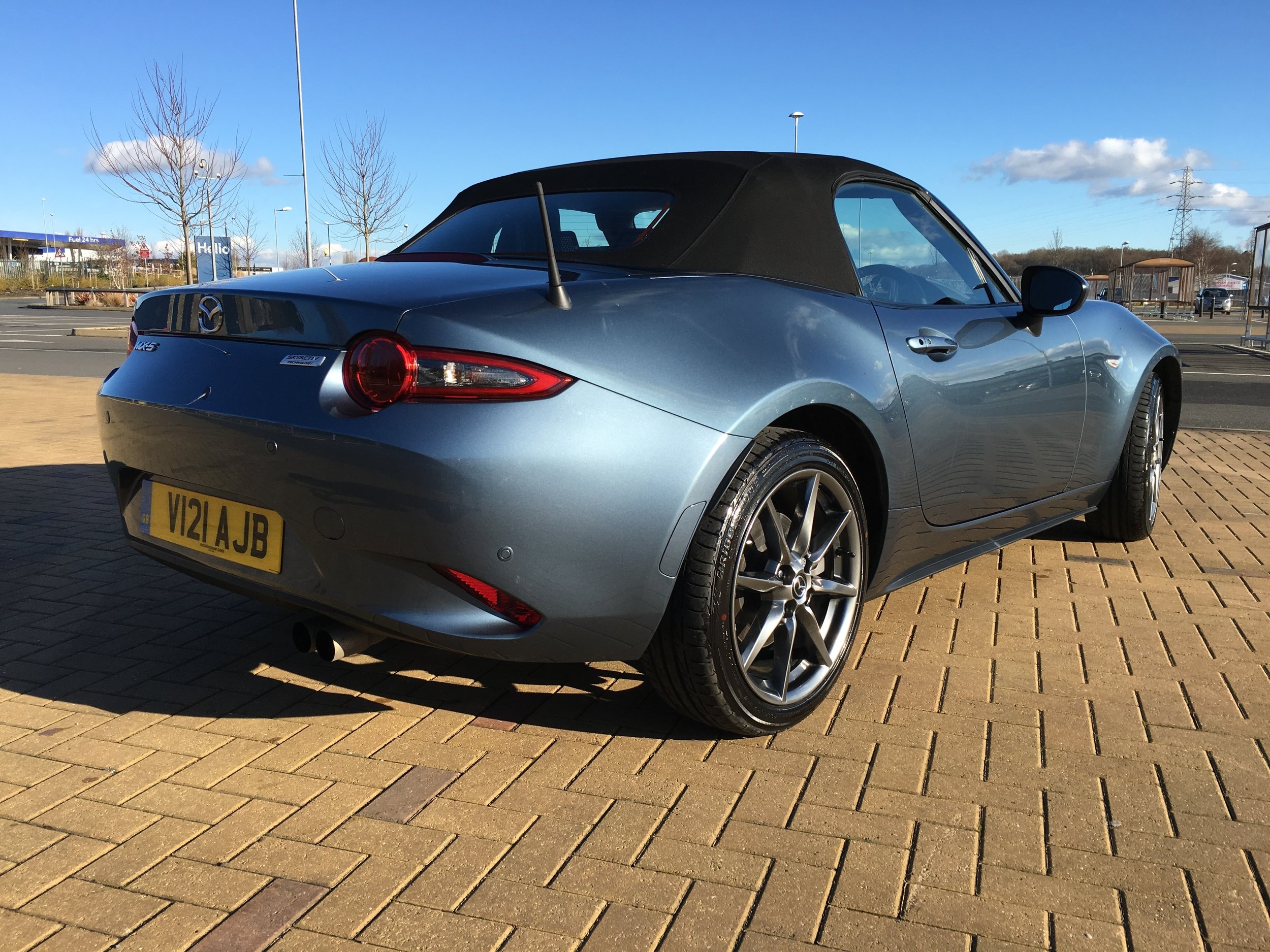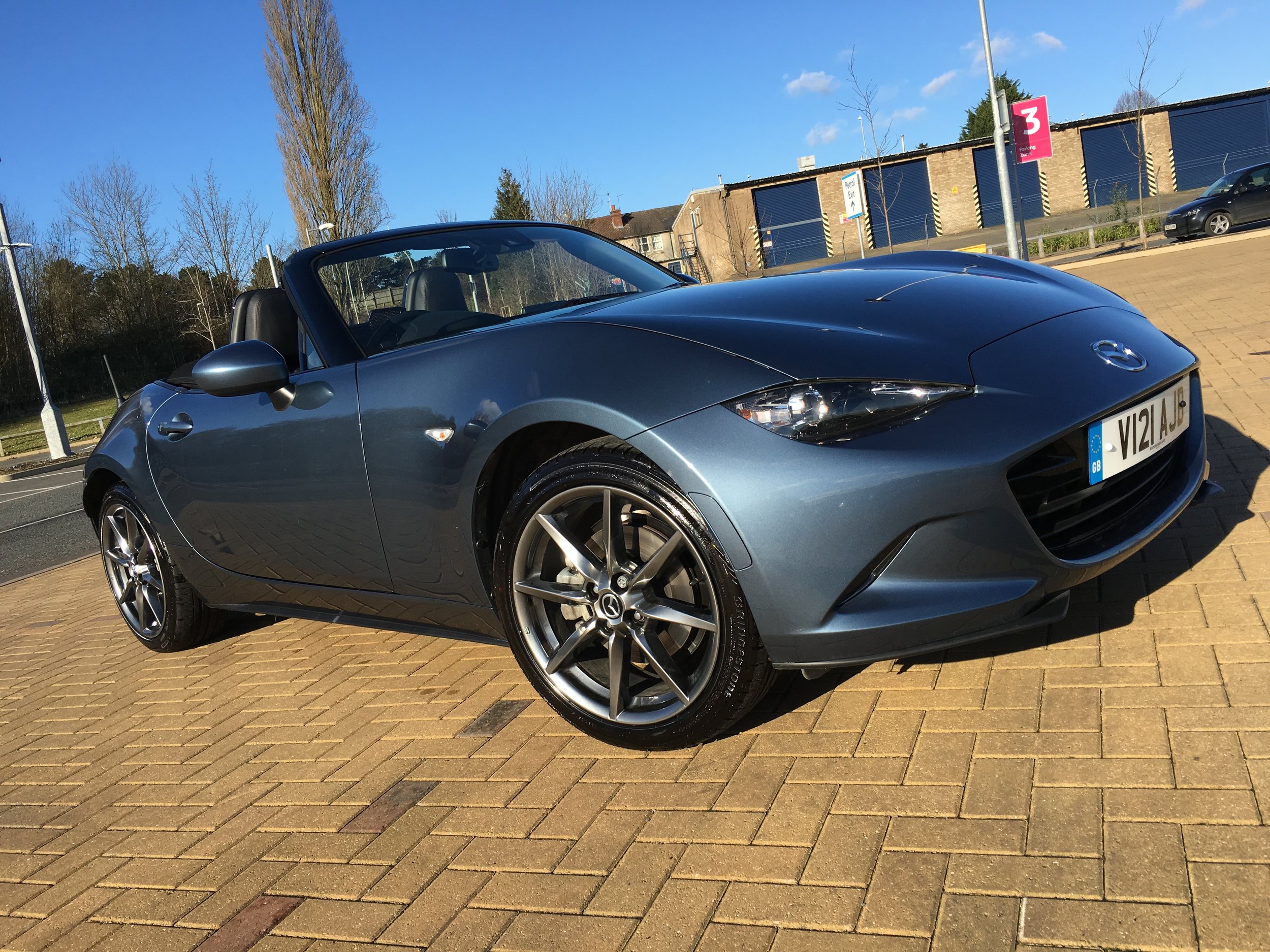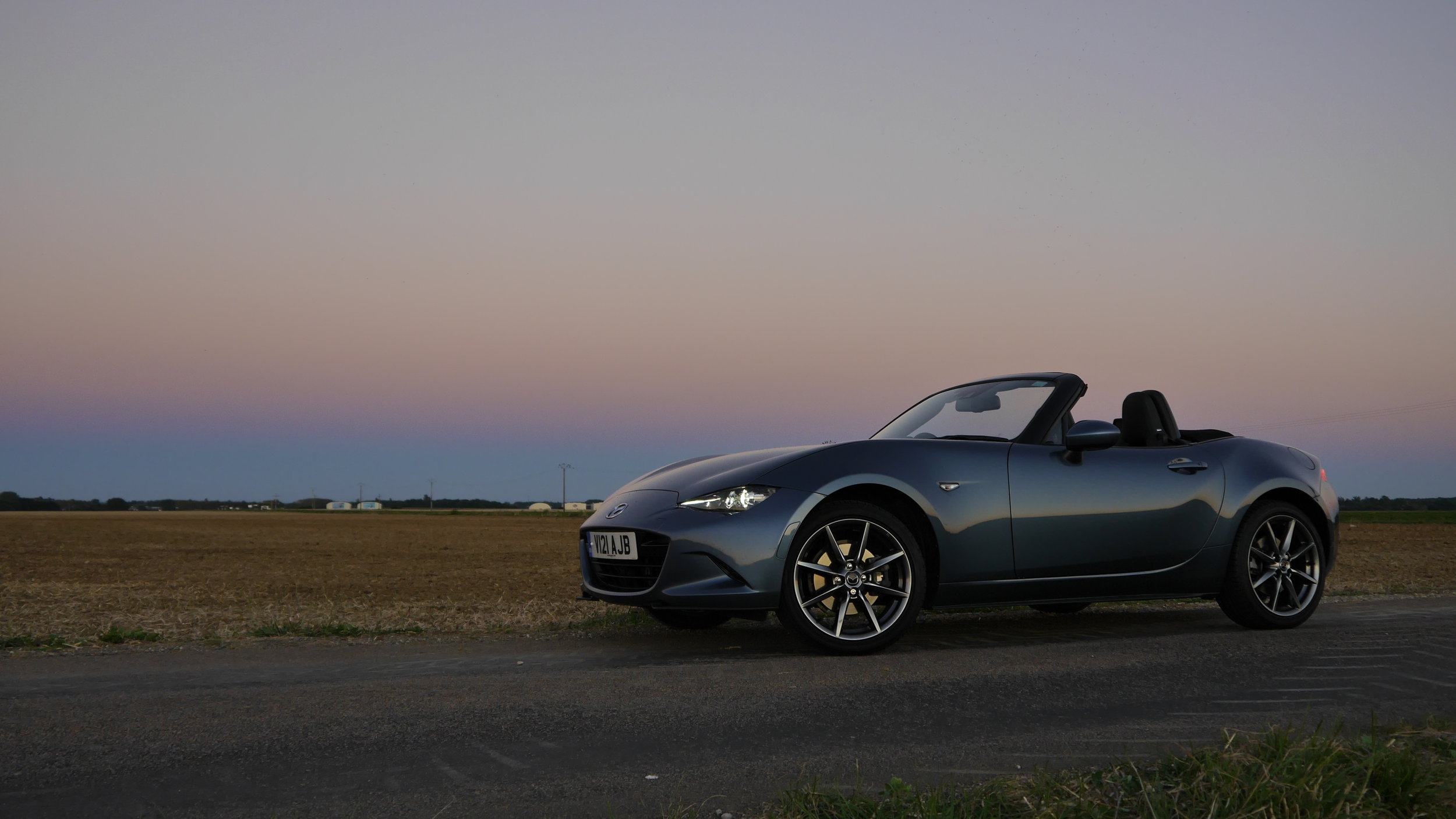 The Inside
Let's start at the back because a regular observation I hear is "It's not very practical, is it?". Well, one of the core use cases for my cars is to transport myself and one or more suitcases to and from the UK's major airports. It manages this task without issue and, while the boot is quantitively smaller than in my previous Mk3 MX-5, its shape is much more usable. Two carry-on suitcases, a couple of laptop bags and all the usual luggage-space detritus of windscreen scraper, spare screen wash and the like all fit with room to spare. It's also worth mentioning that the roof takes up no boot space at all - it has a dedicated compartment so no matter whether you're fully laden or not you can still enjoy top-down motoring. One can't say that of many of its competitors.
In the passenger compartment all is hyggelig - a Danish term encompassing the feelings of a snug, safe, familiar, comfortable thing or space. Mazda has intentionally set the seats low and inboard while the centre console and dashboard wrap around you. The driving position is relatively foetal for me - my long back and short legs meaning the squab is forward and tilted while the backrest is reclined until just before it rubs and squeaks against the roll hoop. Now I read that back I realise it sounds awful, but the reality is that I find it extremely comfortable and can do long distances, incorporating suitable refreshment stops, without any discomfort at all.
One of the most remarkable improvements over its predecessor is how much quieter the cabin is. The front portion of the roof in the Mk 4 is a fabric-covered solid panel. The panel has a couple of benefits in that it both makes the car much quieter with the roof up - there is only some slight wind noise from around your shoulder - but it also eliminates any movement of that portion of the roof in inclement weather or on motorways. Anyone who's experienced a soft top being pushed on to your head then immediately sucked upwards by the pressure changes when passing large trucks will understand the importance of that! Overall it helps make the car feel much safer and more secure - vital given its size.
Storage space in the cabin is at something of a premium. There are two cubbyholes behind the seats useful for the sets of spare bulbs and hi-viz vests required for European travel, but useless for anything required while you're on the move. There's another lockable cubby between the seats which in my car holds the manuals, some winter wear, a torch and that sort of thing. It reaches so far back I swear it ends in Narnia. There's a covered "wallet and keys" cubby under your elbow and apart from the phone-cave ahead of the gearstick that's your lot. There are no door pockets, nor is there a glovebox. Supposedly the glovebox was sacrificed so a full-sized golf bag can sit in the passenger footwell because one of the design team is a golfer. Another reason to dislike golf as I would much rather a glovebox. Cupholders are user-configurable and removable, meaning you can take them out, have them both at the back of the centre console or have one in the centre console and one effectively removing passenger knee space. I keep one on the console holding a tub of chewing gum and the other in the passenger knee-space for water or coffee.
If I need to carry larger flat items in the cabin rather than the boot then I tend to temporarily slot then in the space between the seat and the door - it's deep and a couple of inches wide so perfect for iPads, magazines and the like.
I'm away all of this sounds like a mountain of criticism, but it only becomes a real issue is you're 2-up on a longer drive. The only time lack of cabin oddment space has been an issue was a 2-up trip to Scotland where the passenger had brought much more than she was told she could bring... The upside of all this is, of course, that you find you're not storing anything of value in the cabin of the car.
The Controls
Imagine a car where every major control surface is just where you want it to be and weighted just-so. The pedals are positioned ideally for both back-road heel-toeing and motorway slogs. The steering wheel is central to the pedals and the driver's seat, perfectly proportioned and tells you just what you need to know about the road conditions at any speed and no more. The gearstick has a short, neat throw that's never tight. This is the MX-5. So well resolved are all of these things that it is a pleasure to drive in any condition I've thrown at it. Motorway driving is just fine. A and B-roads are a joy, snicking up and down 6-speed box without even having to think about it. Even Central London is no issue, the light clutch and perfect gearshift making stop-start Euston Road traffic a doddle.
The Drive
Much has been written about the MX-5's driving characteristics and, as you may remember, it was proclaimed by the motoring press to be "The Greatest Thing Since Sliced Fiesta ST". Bearing this in mind, nothing I'm going to say will be a surprise. The steering is quick and direct to the point where it is almost telepathic. Body roll is minimal in any driving other than "track hooligan". The ride is firm, but not jarring, over broken surfaces just as you'd expect it to be - supposedly the non-Sport models are softer, but their trade-off is more roll.
The engine is the final component in this and, as a 2.0, I've never found it lacking. The car's featherweight structure makes its 160ps power output plenty to end up where you want when you want to be there. It's not a buzzy engine either with the UK legal limit in 6th meaning the car sits just below 3,000rpm on motorways. It's a little higher when cruising on The Continent, but not enough to be noticeably noisier. Acceleration is just fine, with the previously-mentioned short-throw gearbox and progressive clutch meaning it can do traffic lights and toll booth drag races without shame. The engine pulls happily from about 1,500rpm with plenty of torque. I've read some publications say that the MX-5 lacks true low down, but they may be referring to the 1.5-litre engine.
Fuel consumption is way beyond what I was expecting. A car-calculated 37mpg is an expected minimum over a 360-mile tankful, about 40mpg the norm and up to 45mpg possible on a jam-free run into central London from home. These numbers are without trying for economy. Having the roof down knocks them back a bit due to the much poorer aerodynamics but the enjoyment of wind-in-the-hair motoring more than makes up for that.
It's a credit to Mazda engineers that they've managed to judge such a fine balance between handling and long distance comfort in such a small car. There are no mode buttons in this car. Nothing to make any changes to throttle calibration, damping or exhaust note. This is the same car whether traversing France at 500-miles-a-day, performing a vanishing act on the roundabouts of the A43 or sitting in London traffic on Park Lane. That makes it all the more incredible.
There is one last observation in this section. The car's first service was at 12,500 miles and since then (it's approaching 17,000 miles at the moment) the exhaust has been throatier, and the engine has felt more powerful. There's the possibility that this is pure placebo, but I see from social media that I'm not the only person who's noticed this.
The Technology
In a move that was deemed "impure" by others, I chose not only the fully-loaded model with navigation, the many-speakered Bose stereo, cruise control and DAB radio but then added the Safety Pack with its lane departure warning, blind-spot monitoring and automatically dipping headlamps. That decision was driven (no pun intended) by my regular need to drive late in the evening having just hopped out of aeroplanes. While I try not to drive when tired, I'm still keen to put as many safety nets between myself and any form of accident.
The entertainment system and navigation are easy to use and relatively fast, although it can have moments of glitchiness and disagreements with my iPhone, and the routes it calculates are usually both fast and sensible despite its predilection for tiny country lanes. To receive traffic updates you need to have a subscription (about £60 for three years - well worth it for me) and to use your mobile device as a hotspot for the data transfer. The car connects to the network created by your device, not the other way around - a more secure solution than the phone connecting to the car. The only issue I've had with the car was that the entertainment system wouldn't connect to a network. The module was replaced under warranty.
I've not, thankfully, tried all of the safety systems on the car but the self-dipping headlamps work well and are rarely caught out by environmental conditions and I find the blind-spot monitoring reassuring when the roof's up (although there's a remarkably small blind spot, to begin with). The lane departure warning, which warns you via a synthesised rumble strip noise via the stereo, is relatively well calibrated, but can be caught out by some of the reflective tar marks left on roads after roadworks. The sensitivity is adjustable, so I could probably dial that out if it bothered me.
The Conclusion
For once in these articles, it isn't a conclusion as the car will continue in my ownership for at least another year. I cannot think of a better car to carry me, a small suitcase or two and a laptop bag around the UK - my primary use case for this car. It's fast enough, handles brilliantly and comfortable over long distances or late at night and running costs are near-zero.
I guess the great thing about this car is that buyers now have a choice. You can choose "the original" MX-5 or, if you find it a little firm for your liking, then you can always have a Fiat Spyder and sacrifice its "cheeky goblin" looks. For the time being, though, I'll keep mine!